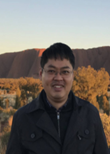 Assoc. Prof. Jianwei Zhao, Huazhong Agricultural University, China

Focus on nitrogen cycles in environment and control of non-point source pollution. Presided over more than 10 national and provincial scientific research projects, published more than 30 SCI papers, more than 20 authorized invention patents, participated in the compilation of 2 monographs, 1 teaching material, and more than 10 engineering projects. Current research projects include:
1. Microbial diversity and ecological relationship in the process of nitrogen conversion..
2. Mechanism and control method of eutrophication.
3. Control of non-point source pollution in urban and rural.